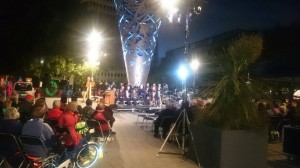 Would you like to sing Handel's Hallelujah Chorus in a choir at sunrise on Easter Sunday morning?
In Cathedral Square on the 21st of April at 7 am?
Then please join a city-wide choir for a forty-five-minute dawn event which will also include other hymns.
If you are familiar with the music and or can sight read, you need only attend one rehearsal, on the day before.
To register or for details contact music director Tim Bell 027 433 1998 or  email tim@barock.co.nz
or complete the form at http://barock.co.nz/hallelujah.html